Strong Support For You to
Discover Your Childhood Vows and Change Your Life!
These coaching packages are available to those who sign up for Discover Your Childhood Vows, Change Your Life! -- also available at the Body Memory Process Academy.
Please click go to:
https://body-memory-process-academy.teachable.com/p/introduction-to-the-body-memory-process-and-the-body-map
to sign up for Discover Your Childhood Vows, Change Your Life!
Enjoy coaching assistance throughout your 90 days of change while you do the Body Memory Process homework!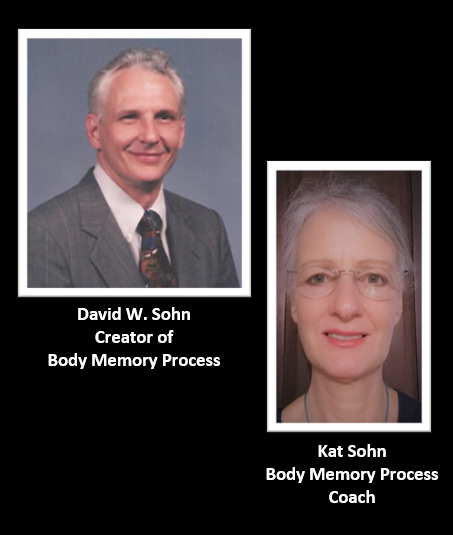 Meet David and Kat Sohn
David William Sohn is the creator of the Body Memory Process. Kat, David's wife, studied with David for almost 25 years to deeply learn the Body Memory Process principles, techniques and the amazing results it creates.
After the passing of her beloved husband in late 2019, Kat is now continuing David's work as the creator of courses, articles and seminars about the work and also as a life coach for those choosing to experience this powerful healing method.
Your intake form has been submitted. Check your email for a copy of your responses. If you're accepted, you'll receive an email with a link to checkout.
Frequently Asked Questions
Can I get a refund if I'm unhappy with my purchase?
If you are unsatisfied with your coaching, reach out to us to see if your purchase is eligible for a refund.
As stated in Teachable's Terms of Use, Coaching IS NOT covered by Teachable's 30-day student refund policy. As such, we highly recommend that you add your own refund policy here.
How do I schedule my appointment?
Upon purchasing coaching, you'll receive further instructions on how to book a time for your appointment.
Can I purchase coaching more than once?
Absolutely! If you find yourself in need of coaching more than once, simply purchase the coaching again.